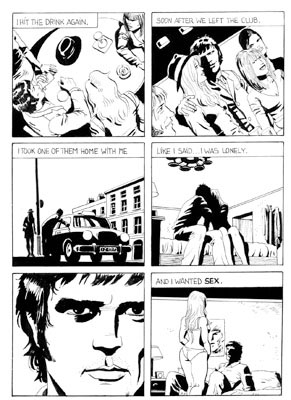 Written by Seán Michael Wilson, illustrated by Jorge Heufemann'
A famous singer in 1960's London, tired of the showbiz world, attempts to take control of his music and of his life.This story is based loosely on the life of the singer/songwriter Scott Walker, with a character called Michael Singer. However it is not claiming to be a biography of Scott Engel, the real person, nor an accurate account of Scott Walker, the pop star. It's a fictional character who has been created by drawing on aspects from the Scott Walker mythology (but also influenced by people like Terry Stamp, Peter Cook, John Lennon) . It is set in the mid 60's in London, he is a famous pop singer who is struggling to move towards more serious self written work, and is unhappy with the trappings of the showbusiness world. The story is constructed in an episodic way, each part highlighting one aspect of Michael's life, which builds up into a complete picture.

NB- due to the death of Jorge Heufemann this story will now not be published, but this page on it is kept here as a tribute to him.
Information