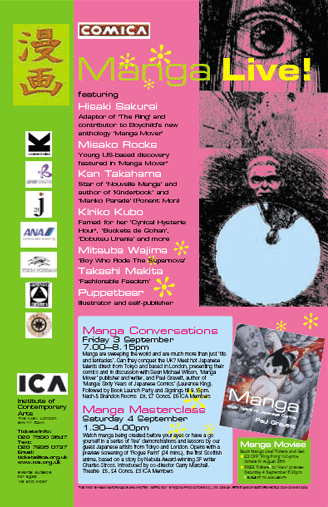 The new comic book from boychild productions is MANGA MOVER, which had a preview party in the London ICA on the 3rd/4th of Sept. It is available RIGHT NOW - TODAY! from Diamond Distributors November Previews Catalogue, page 242,ORDER CODE NOV04 2522, and should be available in a book store near you from late December onwards.

NB,March 2005:Most of the first print run is now sold, and we are selling the few we have left for 25% off the cover price, making it only 3 UK pounds or equivalent in your own currency, via the Paypal ADD TO BASKET button above left.




Manga Mover by boychild productions is a regular 68 page anthology comic book of four different stories by Japanese creators. It will showcase new manga ka to a western audience. This will be a distinctive effort in comparison to many manga translations as most of these creators will be new and upcoming manga ka, who are unknown in the west.
The stories will be mature level, some with an intelligent mainstream flavour, others being more alternative in approach. Sometimes it may be that the story has not even been seen in Japan yet! (as is the case with the Sakura Mizuki story 'Dinner time' ). The book is split into two aspects, with two stories being read in western format from the front and two in Japanese format from the back, meeting in the middle. One of these Western format stories will normally be by non Japanese creators in a broadly manga style or influence.
It will be come out 3 or 4 times a year to begin with, and is only 4 UK Pounds, $5.99 in the USA. Creators in first issue are: Sakura Mizuki, Misako Rocks, Tomoko Amemiya, and a story by Sean Michael Wilson and Juan Chavarriga. Later, the popular stories may be collected together into graphic novels and published as such in quality formats.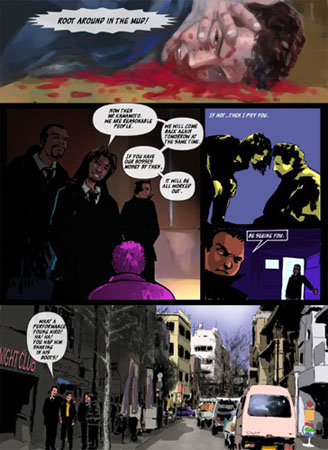 Chimpira' (Japanese for 'young thug').
Written by Sean Michael Wilson. The page opposite is illustrated in glorious full colour by an Argentinean in France - Juan Chavarigga. It is one of the stories featured in Manga Mover, though in the published book it is in greytones not colour.
'A young Japanese thug gets involved with a girl who is connected to a group of radical students who are in conflict with his Yakuza family. This conflict of loyalties and identity is resolved when he sides with the students in kidnapping the Yakuza boss. Intermingled with their situation is the story of a lonely old women who favourite pastime is reading literature to her dog.'
Information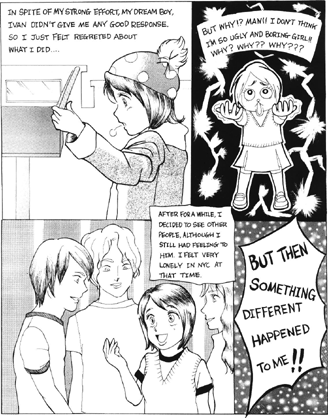 She writes under the pen name of Misako Rocks and currently lives in the USA, this is a page from her autobiographical story 'Rock n Roll Love' about how she met her lover in New York. Please note that the English on this page is Misako's own, and therefore has some grammatical mistakes. We decided to leave this as it was, rather than correcting it. We felt that as this is an autobiographical story it was more authentic for it to be in Misako's own voice, mistakes and all. The other stories in Manga Mover are professionally translated and in correct English, apart from the odd typo!
Information
sean@boychildproductions.co.uk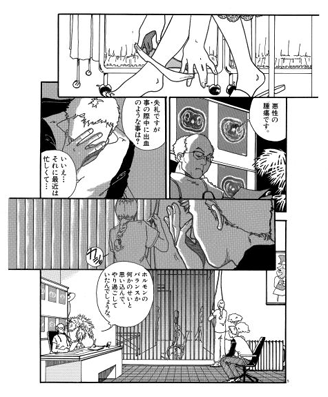 This is a page as it was in the original Japanese of the story 'Harvest' by Tomoko Amemiya. The story is a mature, realistic but charming account of a man with mysterious healing powers. Get a copy of Manga Mover to see what it's like in English!
Information
sean@boychildproductions.co.uk