BOYCHILD BOOKS
News page...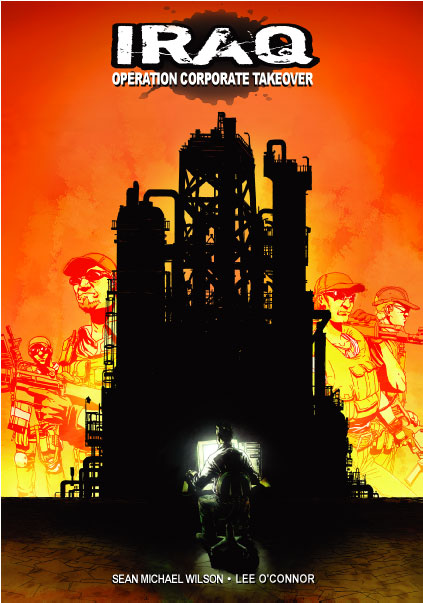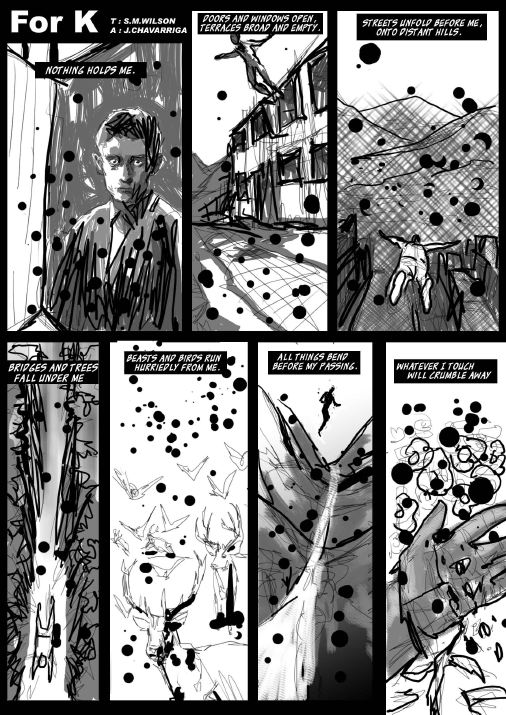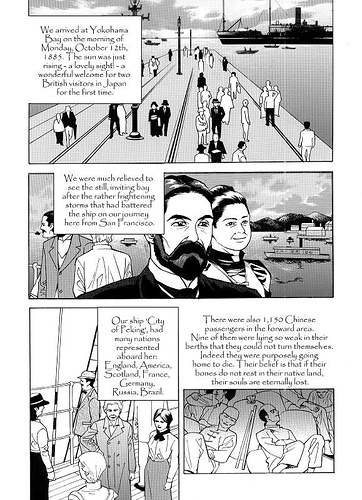 TO SEE INSIDE OUR COMIC BOOKS PLEASE CLICK ON THE LINK FOR PUBLICATIONS

SCROLL DOWN FOR THE LATEST INFO

From April 2007 onwards the most recent developments from the wee mind of Sean Michael Wilson can be seen at his blog:
http://sean-michael-wilson.blogspot.com/


*** IRAQ: OPERATION CORPORATE TAKEOVER ***

Boychild Productions has made a graphic novel with the well respected UK charity WAR ON WANT. Their mission is to: "...fight global poverty by campaigning against the root causes of inequality and injustice and working in partnership and solidarity with poor people across the developing world."

We have teamed up with them to make an 80 page book focusing on the role of corporations like Halliburton and Bechtel in present day Iraq. The book portrays from a grass roots level how these corporations are operating for profit, not people. Roughly in the vein of Joe Sacco's 'Palestine', written by Sean Michael Wilson, illustrated by Lee O'Connor, and based on the extensive research carried out by War on Want. http://www.waronwant.org/

The IRAQ: OPERATION CORPORATE TAKEOVER book, will be launched 6th NOVEMBER 2007 at the London ICA, as part of Paul Gravett's excellent COMICA, a celebration of comics. This year is by far the best line up yet. The book will be available from Diamond distributors, in the December 2007 Previews catalogue, under the 'Boychild Books/WoW' listing. Also here on the Boychild Books website - click on Publications at the top of this news page to see a link to art from the book and a place to order copies.



*** LAFCADIO HEARN's JAPANESE GHOST STORIES ***

A new manga about late 19th/early 20thC writer LAFCADIO HEARN, who lived in Japan from 1890 to 1904. This book will feature manga versions of ten of his classic Japanese myth and ghost stories, mixed in with an illustrated biography of his life. The book has just been awarded funding by a Japanese/British cultural foundation, the Great Britain Sasakawa Foundation and published in Summer 2007 by new US publishers DEMENTED DRAGON - Check out their website http://www.dementeddragon.com
Written by Sean Michael Wilson and illustrated by Japanese manga artist Haruka Miyabi. Available from Diamond distributors, in the December 2007 Previews catalogue, under the 'Demented Dragon' listing.


*** YAOI! ***
Sean Michael Wilson has also written a 40 page Yaoi manga story for Yaoi Press in the USA. Called GANG OF LOVE, it will appear in their book YAOI Volume One, Feb 2007.


*** Our books on NHK TV in Japan ***
Sean Michael Wilson was featured on Japanese television on the 24th Jan 2007, on a programme about manga-ka. Broadcast with subtitles and some of Sean's bad Japanese, the programme followed him researching for his new manga project, MOON MAGICK,and showed the artwork for the new book by Akiko Shimojima. It also showed artwork for the LAFCADIO HEARN's JAPANESE GHOST STORIES book, by Haruka Miyabi, and Sean discussing his inspiration for writing.

*** WEB COMICS NATION ****

Boychild Books now has a site up under the WEBCOMICS NATION service. Here you can see some pages for free from our books. There is also a special subscription section, where paying subscribers can access lots of pages from our comic books online - eventually there will be 100s of pages in that section, including unseen stories, rough versions and previews of upcoming books. The cost is only $1 per month to subscribe to this, and you can easily cancel at any time. Please support our efforts and enjoy our books online by subscribing! All this good stuff is at: http://www.webcomicsnation.com/boychildproductions/
*** THE JAPANESE DRAWING ROOM ***

The last comic from Boychild Books was produced for a Victorian Museum in the South of England, The Russell-Cotes Art Gallery and Museum.

THE JAPANESE DRAWING ROOM (JDR)
- Click this link to see some pages from the book

The book is a 100 page historical manga/ graphic novel,set in Japan, 1885. It revolves round the real journey across Japan of two British visitors, showing their various engaging reflections and observations on Japanese life. Written by Sean Michael Wilson, and drawn by well-known Japanese manga artist Sakura Mizuki, of best selling THE RING (Rasen/Spiral) horror manga. A unique and interesting book, it also has an extensive research glossary at the back written by Shaun Garner, giving information about Japan at that time.

Sakura Mizuki and Sean Michael Wilson flew over from Japan as invired guests to launch the book at the Bristol Comic Expo, May 13th/14th as invited guests. Also the weekend after festival there was a series of launch events in the Russell-Cotes Museum itself in Bournemouth, including manga workshops, school and library events on the 19th and 20th of May. The Major of Bournemouth made a speech, as did the representative of the Japanese Embassy in the UK, then 3 cool new Japanese bands rocked out in the garden - an unusal mixture of the mainstream and the alternative mixing happily together!

The JAPANESE DRAWING ROOM is not only the first original English language manga illustrated by Sakura Mizuki, it is also the first full length manga book ever commissioned by a British Museum - so is something pretty special!

Preview pages and more info can be seen at: http://bristolpreview.monkeyswithmachineguns.com/ http://www.flickr.com/photos/91771983@N00/

The book is available from the March 2006 Diamond Previews catalogue, page 243,(code: MAR06 3078) in a special MANGA MONTH celebration by them. www.diamondcomics.com Or at www.smallzone.co.uk Museum contact: shaun.garner@bournemouth.gov.uk

THE JAPANESE DRAWING ROOM - MANGA SIZE, 5x 8, HIGH QUALITY FORMAT, 9.99 US DOLLARS, 5.99 UK POUNDS.




*** JAPANESE MANGA FOR SALE ***
Check out this link to see a list of original, Japanese language manga that we have available for sale. These can be sent to you, direct from Japan, to any worldwide location - get your manga in the real Japanese format, long before its translated. Or use them as a way to learn Japanese itself.




** TAILORED MADE COMIC BOOKS ***
We are now starting a service to make biographical and educational comic books for individuals, institutions and companies.

Bespoke comic books! - tailored made to your own true story. Where people can have comic books/illustrated guides produced for them for a specific purpose. Such as: biographies of their company or organisation; personal or family biographies; and educational comics on a variety of themes. These can be in several formats and lengths, for a reasonable cost. We will write and illustate the book to your requests. We aim to make interesting and attractive tailored made comic books for you.

Click this link for more information and ordering:
MORE INFO ON TAILOR MADE COMIC BOOKS

info@boychildproductions.co.uk


*** FUTURE BOOKS ***
The other books projects include:

Sean Michael Wilson is working with Japanese artist Akiko Shimojima on a long manga called MOON MAGICK. This is being done in a Japanese version and considered now by some BIG Japanese publishers, plus a possible English version by a US publisher. Doki Doki, as they say in Japan.
We are also working on an illustrated children's story called A NEWTS TALE, with artist Masafumi Goto. Plus planning a comic book version of famous Japanese writer Natsume Soseki's KUSAMAKURA novel from 1906, with a Japanese manga ka illustrating it. Another possible history book is called 20 FAMOUS SCOTS, which will be a collection of short illustrated biographies of, well - famous Scots!
Lastly, we are working on a dream come true - to make illustrated versions of some FRANZ KAFKA short stories. Written by Sean Michael Wilson and drawn by the wonderful artist Neill Cameron.



*** BEAUTIFUL THINGS BOOK ***
LATEST NEWS! - BEAUTIFUL THINGS recently won an award for FAVOURITE GRAPHIC NOVEL (non-Marvel section) from the readers of the comic book website LIVEWIREWORLD. Nice! More details at: http://www.livewireworld.net/livewirereview/id36.html

BEAUTIFUL THINGS was featured in Diamond distributors April 05 Previews magazine - Unit code APRO52731. It is a collection of poetic short stories in comic book form, written by Sean Michael Wilson and illustrated by several artists. It has received shining reviews in various places.

BEAUTIFUL THINGS. is an unusual, literary book. Definitely the best comics we have done so far, a big step forward in complexity and range. Many of the pieces in it are written, you might say, 'under the spell' of Franz Kafka and Jorge Luis Borges. Its comic book influences include Alan Moore, Chris Reynolds, Eddie Campell, Adrian Tomine, Harvey Pekar etc.

Click the image in Publications to see some more information and several interior pages from BEAUTIFUL THINGS - it really is a thing of beauty!



*


*** DOWNLOAD OUR BOOKS ***
Our books will from now on be available for downloading as PDF versions from LULU.COM The boychild shop there can be seen at: http://www.lulu.com/boychild
The price is a lot cheaper than getting the printed version, if you are okay with reading comics on your computer. Its an easy and quick way to get our great books - please have a look.




*** MANGA ANTHOLOGY ***
Our previous book MANGA MOVER was launched at the MANGA LIVE! festival at the Institute of Contemporary Arts in London, early Sept 2004.

7 Japanese creators came over for this, including Sakura Mizuki and Misako Rocks of Manga Mover.We had packed houses on both days, Q&A sessions, art displays,
live drawing, 2 other books launched (including Paul Gravetts
'Manga: 60 years of Japanese comics'), radio and magazine coverage
of the event, and sold quite a few copies of the book.

Manga Mover is in the November 'Previews' catalogue of
Diamond distributors,page 242, ORDER CODE NOV04 2522 and should be in a shop near you from late December.The good initial orders for the book means that has already sold twice the number of copies of our last book! - www.diamondcomics.com
Available in the UK trade via Redroute distribution or www.smallzone.co.uk
And also soon at www.akadotretail.com/shop/index.php?client=boychild
AKADOT have a lot of other comic books available there, so check out their site.
And you can get our books direct from us here at boychild using Paypal or cheque.
Please get a copy and help this unique manga book get off the ground.

Click on the Manga Mover image in the Publications section to see more.



*** SPECIAL OFFER ***

OUR ANGEL OF THE WOODS GRAPHIC NOVEL AND MANGA MOVER BOOK ARE NOW FOR SALE DIRECT FROM US VIA PAYPAL OR CHEQUE AT THE REDUCED PRICE OF 3 UK POUNDS OR EQUIVALENT EACH. THAT IS A LARGE REDUCTION ON THE NORMAL COVER PRICE.

CLICK ON THE PAGES FOR THEM IN PUBLICATIONS SECTION TO ORDER AT THIS SPECIAL RATE.


*** BOYCHILD SHOP ***
We have now set up a boychild shop - http://www.cafepress.com/boychild - where you can buy such odd items as a Manga Mover mousepad, Chimpira mug, Beautiful things notebook, even a boychild calender! - wonders will never cease. Please be aware though that Customs and Excise in the UK, and other countries may add on a small tax for such items coming in from the USA.

*** SWAPMEET SITE ***
We have also set up a page under my name, Sean Michael Wilson, to publicise our comics further on the WebcomicsNation.com Swapmeet site, its here: http://www.smallpressswapmeet.com/creator.php?name=boychild

*** MANGA MOVER IN JAPAN ***
50 copies of MM have been bought by a DVD Manga publisher in Tokyo called BUDDYLIVE. Some to be used for promotional purposes for their DVD's, and others to be sold in Japan via their website on www.dex-one.com
So the Manga Mover Japanese creators have had their stories go all the way from Japan to the UK, and now back again!

*** INTERVIEWS ***
There are some interviews with me and images from our books up at the POPIMAGE site of: http://www.popimage.com/
This is a great comics website, one of the best in my opinion. Please check it out. And another recent long interview is at: http://www.enginecomics.co.uk/interviews/interviews.htm

If you feel like being nice to us here at boychild then please contribute something towards the considerable cost of making our books by giving us a donation here. Everything will go towards making good comic books, and NOT cigarettes and alcohol, rare Walker Brothers singles, or nights out with a naval officer, etc.